KDB-120 Automatic Blister Packaging Machine (ALU-ALU)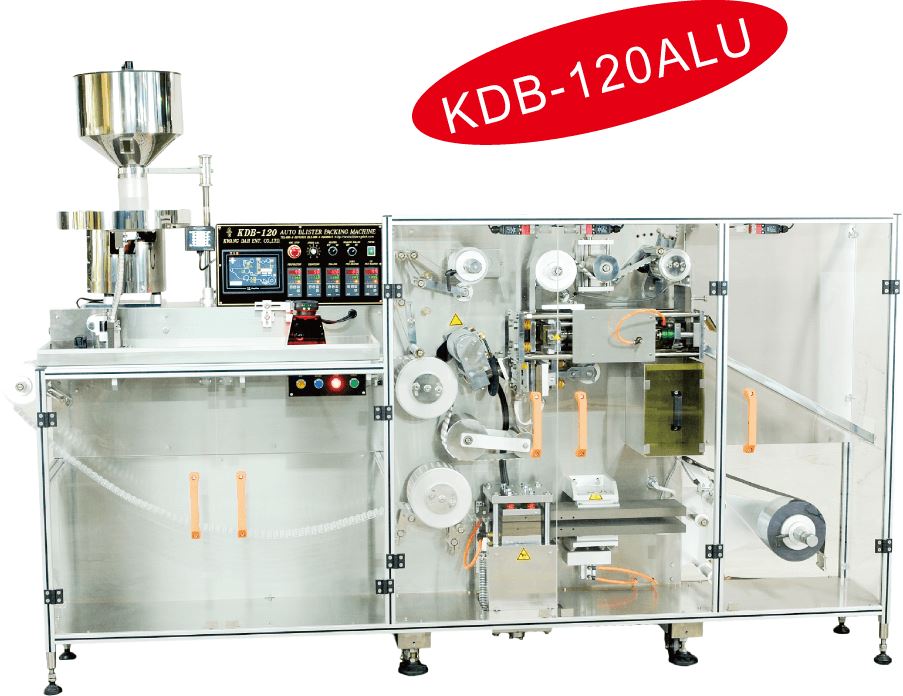 Alu/Alu blister packing machine KDB-120ALU(Automatic Blister Packing Machine) is specially designed for the ALU/ALU product for the purpose of better preservation and prevention of light rays. KDB-120ALU has similar features with KDB-120 except it's formed by cold extruding. It can also pack ALU/PVC's product.
Applicable industry:Pharmacy, Biotechnology, Health Supplements, Nutritional Supplements, natural food…etc.


FLOW CHART





KDB MACHINE


Sealing Line (cross-net type)

TRADITIONAL MACHINE




Sealing Dot (plate type)

Cross-net type roller,due to crossed net sealing is capable of blocking the air completely and prolonging medicine preservation about 4 times over plate type sealing.
The cross-net type roller is composed of two rollers compressed in a single line with a very small contact area preventing hot air from getting into the blister pockets,so medicine effectiveness is unaffected.
Dot type (plate-type)
Plate type uses dot-type sealing:air gets into the medicine where there aren't dots and thus
shortens expiration.
Since the sealing area is larger and sealing time
longer, during the sealing process, hot air easily
gets into the blister pockets. This decreases the
effectiveness of the medicine.

The machine adopts a no waste cut method, so no wasted material is
produced. It can save
about 1/5 of material compared to traditional types.
Plate-type of triming wastes about 3-5 mm of material between two blister and increases cost at the same time.




OPTION

Automatic Feeding Device
For Capsule & Tablet:
The capsule or tablet can
be filled 100% automatically
into blister pocket by
vibrating feeder.

Automatic orientation device for capsule (capsule only):
Automatically fill the two
piece hard capsule into the
blister pocket at same
direction by capsule
orientation structure.
Brush Box feeder
Easy to feed all diffent
kinds of products into the
blister pocket with brushes.

Miss-Feeding Detecting
System:
Capable of detecting
miss-feeding blister by
detecting system.

SIZE CHANGE PARTS




FEATURES:




| | |
| --- | --- |
| 1. | Compact size with all function and fast production. |
| 2. | Compressed air forming creates equivalent blister pocket. |
| 3. | Continuous motion offers best filling condition. |
| 4. | Equipped with trouble detection system which displays where the trouble is. |
| 5. | The machine adopts a no waste trimming method to save material. |
| 6. | It is very easy to exchange all the size change parts. It takes less than 30 minutes to finish. |
| 7. | Main frame is covered with stainless steel. This makes it easier to clean and meets cG.M.P. standard. |
| 8. | It is neither noise nor creates public hazards and it is easy to operate. |
| 9. | The expiration is about 4 times longer than traditional dot-type sealing. |

TECHNICAL DATA


Model

KDB-120

KDB-120ALU

Output

Max. 200 blisters/min

Max. 100 blisters/min

Forming/Material Width

Max.140 mm

Forming Depth

Max.12mm

Max.9mm

Formed Area Available

Max.146 x 125mm

Reel Diameter

Forming Material

Max. Φ 400mm

Lidding Material

Max. Φ 240mm

Reel Core

Φ 70 ~ Φ 76mm

Power Supply

220V/380V 50HZ/60HZ 1 phase

Power Consumption

7.2 KW
8 KW

Air Consumption

6 kgf/cm² , 75 ∫/min

Forming Materials

PVC, PVC/PVDC
PVC/ACLAR, PP

Aluminium laminate,PVC,PP,

PVC/PVDC,PVC/ACLAR,

Lidding Foil

ALU/HARD,ALU/SOFT,ALU/PAPER,

ALU/POLYESTER,PP

Machine Size (LxWxH)

260x95x200 (cm)

Packing size (LxWxH)

285x115x175 (cm)

Gross Weight

1400kgs

Net Weight

1000kgs

◎ The specification, appearance and dimensions shall be subject to change without prior notice.
◎ Other KD machine series please browse our website check to detail.